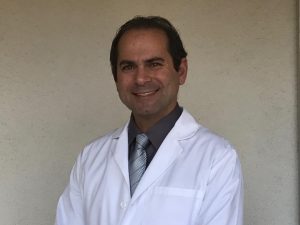 Dr. Jay Akef
SAN DIEGO PERIODONTIST AND DENTAL IMPLANT SPECIALIST
Dr. Jay Akef has been involved in the dental field since 1989. He graduated from Loyola University of Chicago's Dental School in 1989 with honors in periodontics and continued his education, earning a graduate degree from Loyal University and becoming a certified periodontist. Dr. Akef practiced in Los Angeles for three years where he taught at UCLA and USC dental schools. He moved to San Diego in 1994 and has performed over 23,000 surgical cases of gum treatment, dental implants and periodontal plastic surgery to correct gummy smiles.
Dr. Akef has taken care of my dental needs for the past 5 years. He is knowledgeable, kind, gentle and courteous. I recommend him to anyone looking for a true professional to take care of their gums and teeth.
After having numerous unsatisfactory experience at other dental offices, I was referred to Dr. Akef and brought my mother to De Anza Dentistry for her needed work. We couldn't be happier in the results and professionalism that the entire staff has shown us.
Dr. Akef always takes time to make sure I understand the treatment to be done and is very gentle. I have also seen other Doctors in this office and like Dr. Akef, they make me feel at ease and do a great job. I have and will recommend Dr. Akef to all my family and friends
San Diego Dental Implants & Periodontics
Dr. Jay Akef thanks you for your interest in our dental practice. Patients turn to us as the experts in periodontal treatments and implant placement. That is because in three decades of experience, Dr. Akef has earned his reputation as a top periodontist and implant specialist in San Diego, CA.
When it comes to advanced oral health procedures such as periodontal and implant solutions, your treatment is only as valuable and effective as the quality of care you receive. Failed implants and procedures cost you more in time, money, and pain. Dr. Akef has placed thousands of implants successfully and constantly pursues continuous understanding and skill in the specialties of implant and periodontal procedures. We offer advanced solutions, including periodontal cosmetic surgery, in the San Diego, Pacific Beach, Clairemont Mesa, La Jolla and as far as North County.