The All on 4 Dental Implant Process?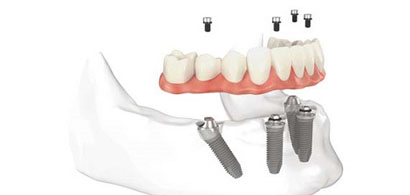 The All on 4 dental implant process starts with a consultation, where Dr. Akef and his highly skilled team of dental professionals will conduct a full dental examination, gather important information, and help answer any questions you have about the treatment plan. The consultation process involves going over your dental and medical history, performing a CAT Scan for a detailed look into the existing state of your teeth, gums and jaw structure, and going over any fees and insurance coverages involved with the procedure.
After the initial consultation, you are scheduled for a surgery date, when your dental implants are implanted and your temporary prosthetics are placed right in the comfort of our office. Our team of certified lab technicians take special care to design your final prosthetic replacement teeth that look, feel and function just like your own natural teeth. After your dental implants are completely healed, your permanent set of teeth are fixed into place.
What are the Benefits of All-on-4 Dental Implants
Easy home care and oral hygiene
No frustrating removable appliances
Fast recovery time
Eat whatever you want
Speak with confidence
In most cases, no need for bone grafting
Long-term permanent results
Improve your quality of life
All on 4 dental implants are different from dentures because they are secured into the gums. The all on 4 dental implants has four arches each holding a dental implant, serving as anchors for your new teeth.
Traditional dental implant procedures used to require up to a year or more of healing time. All on 4 dental implants, however, allow you to be in and out of our office in the same day with a temporary set of implant-supported teeth, while your new set of custom prosthetic teeth are being designed. Once your dental implants have had sufficient time to fully bond with your gum and jawbone, your new custom-designed prosthetic teeth can be implanted within a few short months.
All on 4 dental implants differ from traditional implants in that there are only four implants per arch that are inserted into one's gums at an angle, instead of eight implants that are inserted straight into the tooth root like traditional implants. This tilted technique allows even those with minimal bone to require less bone grafting work to be completed before the implants can be placed. Because of the greater bone-to-implant contact, All on 4 dental implants can be used on bone heights as low as 10 mm on the upper or lower jawbone, eliminating the need for major, costly grafting procedures in many cases. In addition, because there are only four implants, the procedure costs less and recovery time is quicker than with traditional implants.
Anyone suffering from missing or damaged teeth can benefit from All on 4 dental implants as a more permanent substitute for dentures, and a less damaging alternative to bridges. Complete your smile with a full set of beautiful, natural-looking teeth that are so stable you can eat all of your favorite foods and smile again without concern. All on 4 dental implants are virtually pain-free, and we send you on your way with a full arch of teeth in just one day!
---




---
Patient Review
I am very pleased with the all-on-4 dental implants I received from Dr. Akef. The procedure was painless. Dr. Akef and his staff were professionals throughout the treatment and in follow up visits. I have recommended Dr. Akef to family and friends
-Mike C
The whole process only took three days which includes the free consultation. I am very grateful to Dr. Akef and his entire staff. I've regained my self esteem and confidence.
-Saundra
Benefits of Teeth-in-a-Day
Won't be without teeth after extractions
Immediate placement of dental implants
No need to wear temporary appliances
No waiting period
San Diego Dental Implants & Periodontics in San Diego offers an ideal solution for your missing or damaged teeth and a more permanent alternative to dentures thanks to the revolutionary teeth replacement remedy known as All on 4 dental implants. All on 4 dental implants are ideal for anyone suffering from missing, damaged or unstable teeth. The treatment offers a single-day teeth replacement solution that allows you to eat all your favorite foods again soon after your procedure, just like you could when you had a full set of natural, strong and healthy teeth.
We restore more than just your beautiful smile. We also restore the strength and function of your natural teeth – as well as your confidence – in just one day. The All on 4 technique allows patients to see immediate results, save time and money on other less-than-permanent options, and protect the health of gums and bone for many more years to come.
Can't Call Us Now?
Complete the form below and a member of our team will contact you at a more convenient time!